Sustainability Matters
Download 7 Easy Steps to Sustainable Events
List includes many helpful suggestions including carbon footprint, using paper instead of plastic, making recycling easy, partnering with food rescue to donate extra food, and eliminating single use signs.
Eliminate Single Use Signs with our Long-Lasting Sign Platform
With our innovative Component Design System, you can easily change your artwork while keeping your sign to reuse for your upcoming events.
Re-use – New artwork can be easily ordered and quickly assembled.
Re-Furbish – All of the components are in stock and replaceable.
Re-Charge – The lithium batteries are rechargeable and have a long life span.
Re-Cycle – The optional bases are made from 100% recycled rubber.
Re-Package – Our reusable pouches protect the signs from damage.
Waterproof – Our signs are waterproof for 45 minutes, with the top of the sign fully submerged underwater.
Long-Lasting Sign Platform – Our signs will last several years or much longer with proper care.
PVC-Free Matters
Engineered Paper Performs like Plastic
Engineered Paper banners perform equally to plastic but are more environmentally friendly.
Meets Environmentally Social & Governance (ESG) criteria for socially conscious investors who evaluate how a company performs as a steward or nature. Recycled Engineered Paper keeps waste out of landfills.  In the U.S. 66% of paper is recovered and recycled vs. only 8% of plastic.
Our Engineered Paper is 100% blue-bin recyclable.
Making your event sustainable is not only being responsible to the environment, it's extremely important to your guests.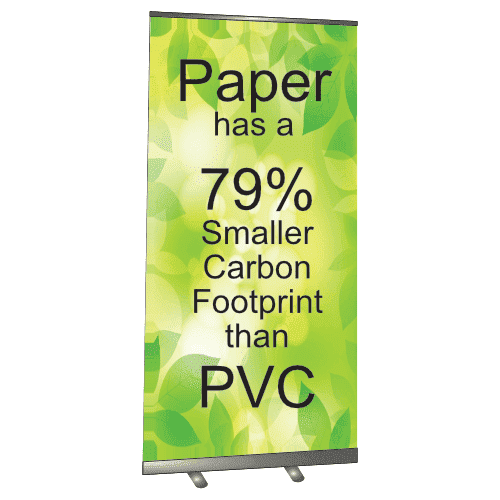 ENGINEERED PAPER IS A FRIEND TO THE ENVIRONMENT
Cellulose based synthetic fibers engineered for strength and durability.
Exceptional lay-flat properties of Engineered Paper prevents wrinkles.
Engineered Paper performs equally to Plastic in all ways, but is so much more kind to the environment.
Engineered Paper vs. PVC Plastic

38% less water usage than plastic
60% lower energy footprint than plastic
79% less carbon footprint than plastic
88% less fossil resource depletion than plastic
26% less solid waste generated than plastic
It's Time to Think Long Term